Tracking Weather from Space with Scarlett Koller of Mithril Technologies
An early-stage startup will offer unparalleled weather data when it unfolds its orbital sensors.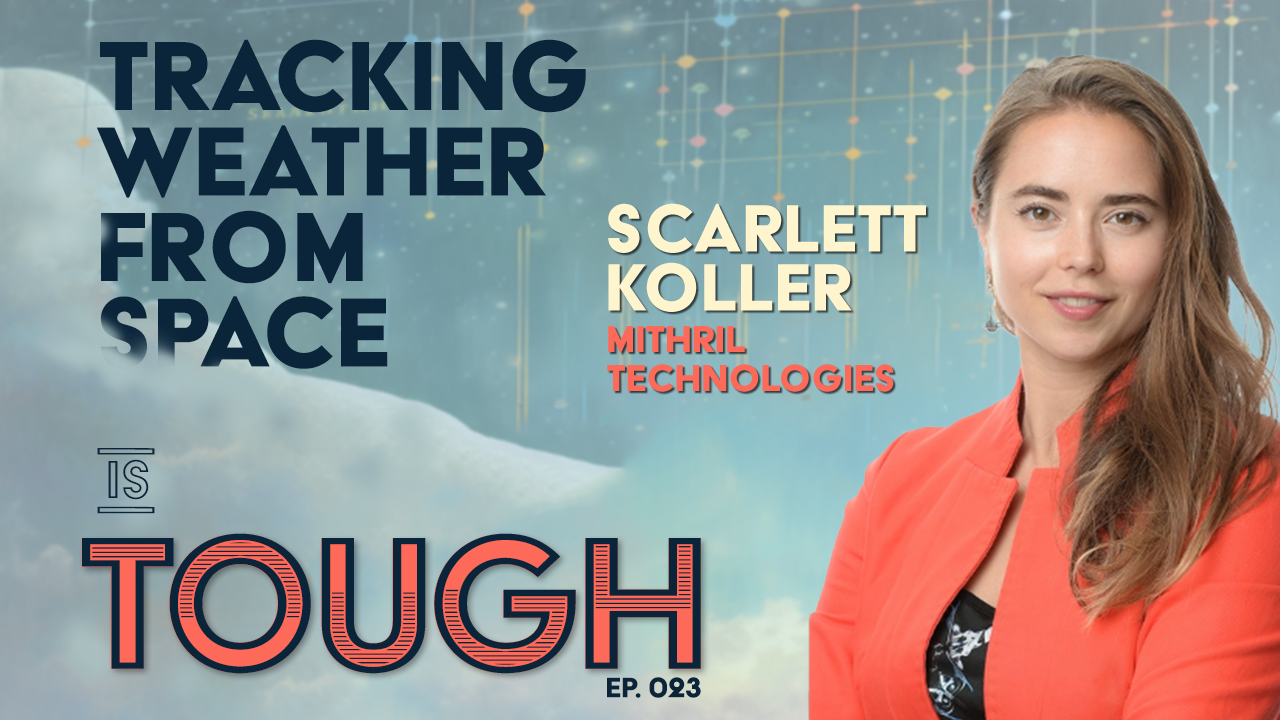 In one sentence...
An early-stage startup will offer unparalleled weather data when it unfolds its orbital sensors.
Captivated by the stars and focused on improving life on Earth, Mithril Technologies founder and CEO, Scarlett Koller, is venturing into weather awareness and storm tracking by launching and commercializing a large space-based sensor. In this episode, we have the privilege of learning how Koller and her co-founder are translating a new technology out of the lab and into a space business.
Aviation, shipping, insurance, and defense industries are each keen to get better clarity on Earth's complex atmosphere at any given place and time. Where we currently get a partial image once a day, Mithril's technology offers nearly a complete image per second, a significant improvement that could have profound implications for disaster management. Utilizing microwave radiometry and with an incredible ambition to create huge 100-meter-diameter orbiting reflectors, Mithril's platform would change the way storms are tracked by providing real-time images of the whole internal structure of a storm. Such holistic data is not available today, as some of the best approaches over the decades continues to be the reliance on specialized flight crews to fly instrumented airplanes through a storm… a risky, imperfect strategy that only provides incomplete snapshots of a storm system. Likewise, satellite imagery to-date provides only slivers of a weather pattern.
Though complex and fraught with challenges, the allure of space and its relationship to our planet inspires and drives tough tech trailblazers like Koller. With Mithril, she hopes to make an impact in the field of Earth observation and contribute to the realization of humankind's space dreams.
P.S. Tough Tech Today is now open to patron support, so we have launched a pay-if-you-can membership so you can help us bring Tough Tech Today to more folks!
🎧Listen:
📺Watch:
🧠Relevant Links:
👏Credit Roll:
Producers: Jonathan 'JMill' Miller and Forrest Meyen
Guest: Scarlett Koller
Hosts: JMill and Forrest Meyen
Editing: JMill
Transcript: Alan Yan and JMill
Blog Author: JMill
Art Design: JMill
🔖Topic Timecodes:
[1:03] Intro to Mithril Technologies
[5:00] Mithril's approach to making large aperture antennas
[8:48] Refresh rate differences between weather apps and Mithril's satellites
[10:37] How large Mithril's satellites are and will be
[12:01] Mithril's timeline
[13:38] Rationale to become a for-profit entity
[17:25] Scarlett's journey
[19:46] Why "Mithril"
[21:08] More on Scarlett's journey and motivation
[30:02] Investing trends in space industry
[35:09] Toughest parts of space tech and running a space business
[39:05] Scarlett's perspectives on the early stages of starting a company
[47:45] Scarlett's call to action
📖Transcript:
Transcript is viewable here: https://otter.ai/u/93uhbOa_QUnHu3_8HDut2FamviI