Orchestrating Microbes with Cheri Ackerman of Concerto Biosciences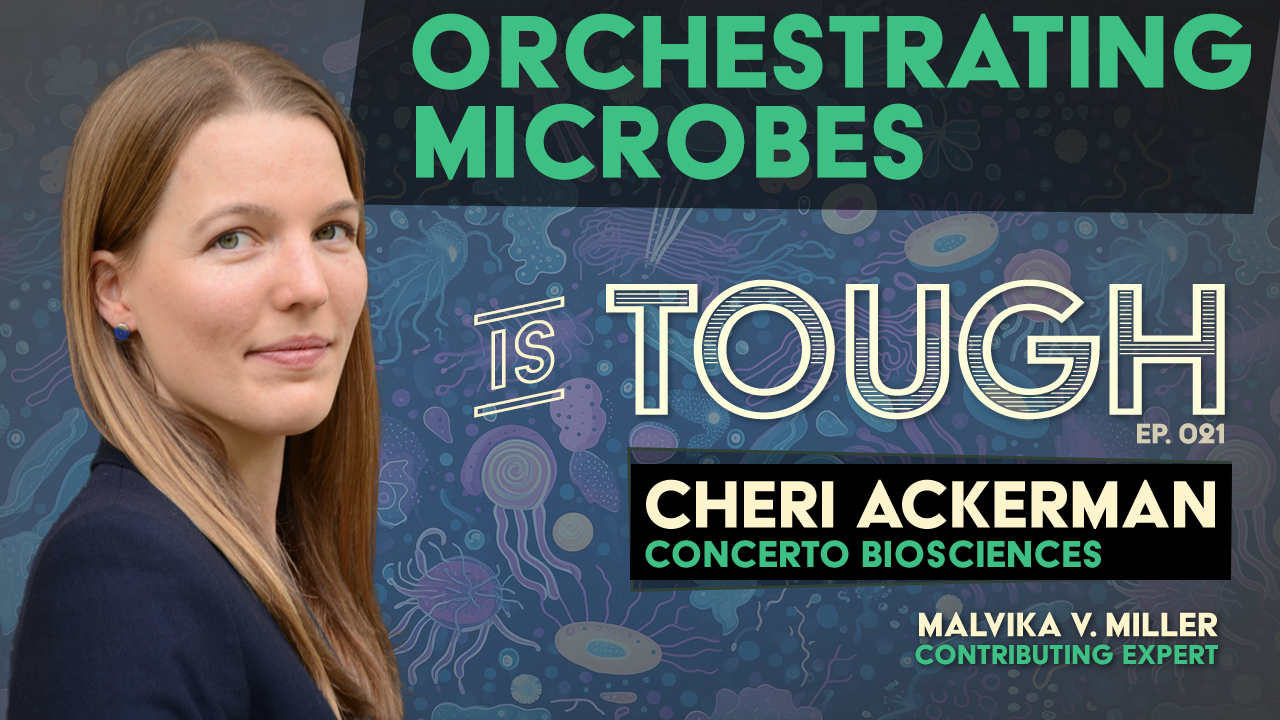 In one sentence...
The interactions of the microbial world within us has been incredibly difficult to see – until now.
From the depths of our intestines to the surface of our skin, our bodies are host to trillions of microbial cells spanning thousands of species. While critical to helping us to fend off illnesses and digest complex foods, we know very little about the complex interactions among these microbes.
The team at Concerto Biosciences, led by CEO and Cofounder Cheri Ackerman, has put in place a key step in advancing the understanding of ourselves: a system, the "kChip", that enables measurement of the interactions that occur among a multitude of species. The result of Concerto Biosciences's high-throughput, combinatorial approach includes new medications, better health outcomes, and the early glimpses into previously undiscovered relationships occurring in and among every living creature, with fascinating applications beyond therapeutics such as within agriculture. Building an ensemble of microbial species and orchestrating them for a particular purpose is non-trivial and previously unimaginable. Much works remains, as it is difficult to capture real-world bacterial diversity or environmental complexity, but the kChip platform and library of multifactorial interactions enables a robust foundation for new research and development.
Dr. Ackerman and her colleagues have set their company's sight on first addressing imbalances with the skin microbiome, with particular attention on developing a sophisticated yogurt-like topical treatment for eczema. We dive deep into how this all works, from the invention of the kChips' droplets-based platform to how the raw technology is maturing past its origins in an academic research lab.
P.S. Tough Tech Today is now open to patron support, so we have launched a pay-if-you-can membership so you can help us bring Tough Tech Today to more folks!
🎧Listen:
📺Watch:
🧠Relevant Links:
👏Credit Roll:
Producers: Jonathan 'JMill' Miller and Forrest Meyen
Guest: Cheri Ackerman
Hosts: JMill, Forrest Meyen, Malvika V. Miller
Editing: JMill
Transcript: Alan Yan and JMill
Blog Author: JMill
Art Design: JMill
🔖Topic Timecodes:
[2:12] Introduction to kChip and why it matters
[5:57] Range of microbes the kChip can test
[8:31] Cheri's cofounder, working from Killian Court at MIT
[9:27] Physicality of the kChip
[10:34] Business aspects of Concerto
[13:35] Manufacturing the kChip and scaling experiments
[14:50] Invention of kChip and toughest technical challenge at Concerto
[16:33] Different markets for kChip, different microbiomes
[18:49] Complexity of these microbiomes and how well kChip approximates a microbiome, e.g. skin microbiome
[22:40] Value creation of Concerto
[24:32] Who owns the data and do Concerto's partners care about it?
[26:17] Ag tech applications of microbes
[30:29] Microbes and relationship to synthetic biology
[33:33] Delivery mechanism and formulation of Concerto's products
[35:07] Post-Series A. Focusing on eczema and then platform development
[36:14] Out-licensing at Concerto
[39:36] Upcoming technical milestones
[43:12] Cheri's responsibilities, past experiences, and learning how to be a CEO
[46:22] Origin story of Concerto
[49:12] Learning the business side of being a CEO
[51:57] Who Concerto is looking for
📖Transcript: